What does accounting have to do with sustainability? Essentially, everything. In general, accounting isn't the first thing that comes to mind when most people think about sustainability, whether that means climate targets or diversity on boards. But just as research and regulations around sustainability have expanded in recent years, so has sustainability accounting, focusing on activities of an organization that have a direct impact on its environmental, social, and governance aspects.
On the Delve podcast, Desautels Faculty of Management accounting professor Brian Wenzel discusses the role of accounting and accounting research in facilitating how organizations reach their sustainability goals. Sustainability approaches and new global standards should be integrated into accounting practices to encompass all aspects of an organization's performance, from the big picture to the bottom line.
"Accounting perhaps has been part of the problem with sustainability because accounting has led to short-termism inside organizations," says Wenzel. "Next quarter's profits are much more tangible than something that will happen five or 10 years down the road. Even if making a sacrifice now will lead to a greater good in a decade, that's harder to quantify because it's so far in the future. Accounting maybe has been part of the problem but could also solve it."
As it turns out, many people are talking about accounting and sustainability, including at the upcoming McGill Accounting Research Conference, taking place at McGill on June 7 and 8, 2023. The goal of this year's conference, co-sponsored by the McGill Sustainable Growth Initiative (SGI), is to bring together and promote discussions among accounting scholars and practitioners and share their insights on sustainability within the accounting profession and capital markets.
Accounting communicates all metrics
Wenzel points out that accounting is a form of communication. Accountants communicate information to broader audiences, including sustainability reporting in the form of diversity metrics, carbon emissions, material composition, and other aggregated information.
Accounting is central to almost any organization we can think of.
"Accounting is central to almost any organization we can think of, because we take something from one place and then disseminate that piece of information in a different way to someone else," explains Wenzel. "That's why we're responsible for it, because we're the ones tracking it, monitoring it. Accounting wouldn't be that department in the organization that reduces the emissions; we can track it in the submissions example. And then that can help us like make decisions going forward in the future."
Wenzel explains that accounting has always been about sustainability, in that sustainability is about meeting the needs of now without sacrificing the needs of the future, as laid out in the UN's Brundtland Report. "It's that balance between short-termism and long-termism of any organization. Profits, that's an outcome of accounting, but any other metric, anything I can quantify, accounting has a role in monitoring and tracking it and disseminating it at the end of the day."
The management dictum, "if we can't measure it, we can't manage it" becomes extremely tangible in the accounting. But accounting also asks: why are we measuring something, who wants these measurements, and for what reasons? "Either the company cares, governments care, the shareholders care, or the consumers care," says Wenzel. "There's got to be a reason that we're monitoring it and quantifying it and tracking it. Then that's where the accountant comes in."
For example, carbon emission are a complicated number to capture, with many raw inputs that, in the end, come out to three main numbers: scope 1, 2, and 3 emissions, which help organizations track their impact over time.
Setting sustainability standards through accounting
The broad topic of sustainability can be broken down into certain buckets, says Wenzel, including ESG, the environmental, social and governance aspects of a company, or SEE, the social, environmental, and economic aspects of a business. Accounting researchers and members of the International Sustainability Standards Board (ISSB), including those attending the McGill Accounting Research Conference, are currently investigating sustainability topics that range from the outcomes of voluntary and mandatory disclosure of carbon emissions, to gender diversity on boards, to setting up compensation structures that incentivize managers or employees to engage in sustainable activities. One of the most important recent topics that intersects sustainability and accounting is international sustainability standards.
How do sustainable disclosures impact different stakeholders?
"I'm interested to see how sustainability can merge with financial reporting," says Wenzel. "Financial reporting is profit driven, it's focused on the shareholder and the debt holder. I'm interested in how sustainable disclosures can impact other types of stakeholders as well."
The new ISSB intends to create a universal set of sustainability standards that could apply to all organizations. That's important, says Wenzel, because having multiple frameworks of sustainability, with different standards of disclosure, makes comparison across companies, organizations, governments, and jurisdictions much more difficult. "If we have one central framework, one central body, then everything is standardized," says Wenzel. "And then we're able to compare across time and across individuals and organizations."
Accounting has been working on issues of sustainability for decades, says Wenzel, trying to balance different ways of reporting and disclosing on sustainability metrics: "If we can find a way to standardize disclosures of diversity, of emissions, and look at it and quantify it and track it, that could help, and theoretically will help, address it because we can actually see it going forward."
For more research-based insights on accounting and sustainability, listen to the full Delve podcast episode with Brian Wenzel.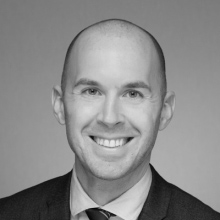 Assistant Professor, Accounting; Affiliate Professor, Bensadoun School of Retail Management; Director of Sustainability