Carbon emissions from a typical company's supply chain are on average 5.5 times that of direct emissions, including from facilities and company vehicles. In certain sectors, such as retail and food & beverage, that ratio goes up to 10 or 20 times. Reducing the environmental impact of supply chain emissions depends on both public pressure and government regulation.
In episode 3 of the second season of Delve's The "New Normal" podcast series, Professor Sanjith Gopalakrishnan from The Desautels Faculty of Management at McGill University joins journalist Dave Kaufman to discuss the impact that supply chain management has on climate change, how to mitigate the environmental impact caused by supply chain greenhouse gas emissions, and whether progress made in the rationalization of greenhouse gases will allow for the Paris Accord targets to be achieved.
"Many companies tout their goals to be carbon neutral by 2030 or 2040, but often these goals do not include emissions from their supply chains. Reducing emissions from your own operations is certainly a good start," he argues. "But given that supply chain emissions are six to 20 times direct emissions, if companies want to seriously consider their carbon footprint and make a meaningful change, the holy grail of sustainable operations is in reducing your scope-three, that is, your supply chain."
While government regulations, carbon taxes, or other form of regulatory action do go a long way in ensuring companies act responsibly, Gopalakrishnan points out a missing piece between government interventions and altruistic intent: "Consumer action and choice. Companies do want to be seen as being responsible corporate citizens."
On the topic of countries rather than individual sectors and companies, namely countries like Canada that are high consumers, Gopalakrishnan says that the metrics of responsibility need to be rethought.
"While we should be looking further at the share of consumer or consumption emissions that Canada contributes, we should also look at historical responsibility or share of historic emissions," he explains. "All of these are different metrics of responsibility, which help us form a more accurate picture overall. But at the end of the day, there is some merit to this criticism that Canada can only do so much on its own."
While increased consumer awareness and consumers making more informed and sustainable choices represent the first part of the puzzle, the second makes up a much bigger piece, says Gopalakrishnan: "Government regulations or sometimes even the threat of impending regulations, which in turn may lead to investor pressure. And for the most part, how our governments have backed away from regulating supply chain emissions."
Since supply chains today are truly global, the problem of global coordination also needs to be tackled globally. "A carbon tax in one country is, of course, helpful, but does little in mitigating supply chain emissions in the absence of a global carbon tax," says Gopalakrishnan.
"From the perspective of a company, there are several challenges associated with managing supply chain emissions. The first and foremost being it's even hard to define the scope of your supply chain. Should you consider only your own direct suppliers?"
For more insights, listen to the full interview with Sanjith Gopalakrishnan on the Delve podcast.
Delve's The "New Normal" podcast series is produced by Delve and Dave Kaufman, with audio engineering by David Rawalia. Each episode looks in-depth at a different aspect of the new normal that we are all navigating due to the COVID-19 pandemic. Original music by Saku Mantere.
Dave Kaufman is a Montreal-based journalist and commentator. He has worked for CJAD 800 and TSN 690 Radio in Montreal, CTV News Channel, CTV Montreal, and TalkRadio and SkyNews in the United Kingdom. He has written for the National Post, Montreal Gazette, and Toronto Sun and other publications. Follow him on Twitter at @TheKaufmanShow.
You can subscribe to the Delve podcast on all major podcast platforms, including Apple podcasts and Spotify, and follow Delve on:
LinkedIn, Facebook, Twitter, Instagram, and YouTube.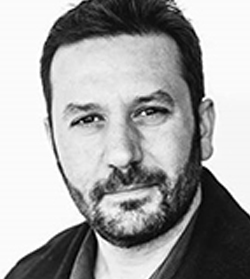 Dave Kaufman
Montreal-based journalist and commentator