The global transition to net-zero requires significant changes in the way businesses operate and grow. How can business leaders successfully manage this energy transition? What are its opportunities and risks for businesses? And what role do corporate boards and investors play in overseeing and encouraging the transition?
In the current era of energy transition, these difficult and critical questions must be tackled at the highest levels to redefine and implement effective business leadership for a net-zero world. At a recent Desautels Faculty of Management Integrated Management Symposium that melded business leadership with academic research, several strategies and opportunities for change proved that major institutions play a vital role in both setting and meeting stronger targets for sustainability.
Bold targets send a signal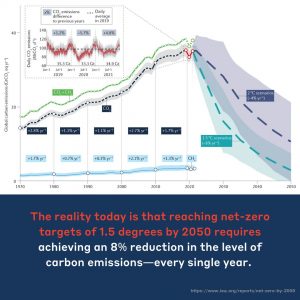 The reality today is that reaching net-zero targets of 1.5 degrees by 2050 requires achieving an 8% reduction in the level of carbon emissions—every single year. "Is the 1.5-degree target a dream or is that something that we can realistically achieve?" asked symposium co-moderator and Desautels Professor Sebastien Betermier.
"We know that what gets measured gets managed, and we also know that setting targets aligned with climate science is both right and necessary," says Janet Drysdale, Senior Vice-President & Chief Stakeholder Relations Officer at Canadian National Railway.
Target-setting also sends important market signals.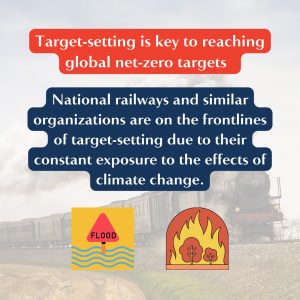 "This target-setting also sends important market signals," she continues. "If we look at the North American rail industry as an example, the entire class-one rail industry has aligned around climate-based targets. That is the beginning point: you need to first understand what you need to do, and you need to tell people what needs to be done… And then we must go about the business of making it happen."
Similar to carbon emissions scopes that measure organizations' environmental effects across the supply chain, the effects of climate change also vary.
"Railways are constantly exposed to the impacts of climate change, with flooding, wildfires, and other environmental factors making a direct impact on every aspect of business," says Drysdale. National railways and similar organizations are compelled to be on the frontlines of target-setting, and "not doing anything is going to have significant implications for how we undertake business in the years to come."
Not only stakeholders but societies, companies, and governments to be aligned.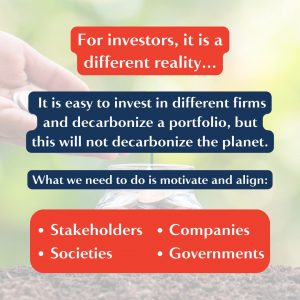 Bertrand Millot, Head of Sustainability at Caisse de Dépôt et Placement du Québec, admits that the long-term and short-term targets are bold, but need to be reached through strategies and actions that are documented and clear, with sustainability-minded investment plans for 2030, 2025 and even yearly, starting today.
"As investors, we have a different reality," he explains. "It is easy for us to invest in different firms and to decarbonize our portfolio, but we will not resolve the issue this way, and we will not have decarbonized the planet… What do we need to do is motivate not only stakeholders but societies, companies, and governments to be aligned."
Technology and behaviour as drivers of change
Symposium co-moderator Suzanne Rancourt describes three current approaches to reducing emissions: behavioural changes, available technologies on the market, and technologies under development.
By 2030, almost 85% of emissions reductions will be a result of behavioural changes and technologies that are currently available. But looking forward to 2050, a shift is estimated: almost 55% of emissions reductions will come from behavioural changes and available technologies, with 45% of reductions stemming from technologies under development.
Spending on new technologies is inherently a risk that institutions must face strategically. Yet how does acting quickly to meet energy targets align with the pressures on short-term performance expectations?
As industry works with OEMs to take on different aspects of R&D in the context of balancing short- and long- term outcomes, industries will see a convergence of technology over time. "To me, this is sustainability," says Drysdale. "This is not a silo; this is the company. Sustainability is really the strategy of how we meet the needs of the present without compromising our future."
Investments in new technologies need to be aligned with all stakeholder interests, whether for a publicly traded company or a pension fund like the CDPQ.
Promote carbon reduction on a global level with technologies that exist.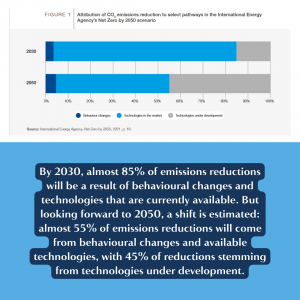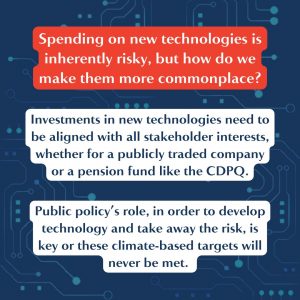 "We promote carbon reduction on a global level with technologies that exist," says Millot, "And, regarding technologies that represent a higher risk… who is going to invest in a technology that isn't viable commercially? That would be gambling. Public policy's role, in order to develop these things and take away the risk, is important. This is true of copper, cement, steel, all the building blocks of the economy. Public policy has to get on this case, or otherwise we'll never make it."
Organization-wide leadership in action
On top of decision-making on technology, a successful energy transition depends on executive and board buy-in. Rancourt points out that current data shows that executives and board directors are comfortable with sustainability conversations involving strategy, key business risks, shareholders, the competitive market, and executive compensation. On the other hand, they're less comfortable discussing the repercussions of technology, human resources, crisis management, data security, and ESG.
Out of over 1188 directors at the 100 biggest US companies, only 6% have relevant credentials in environment protection, and only 0.3% have expertise in climate or water-related issues. But interest and momentum around these issues is increasing.
Building up the board capacity and board education.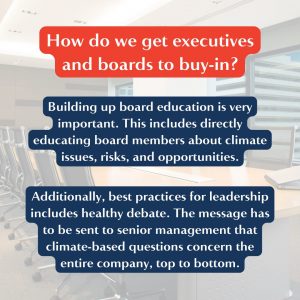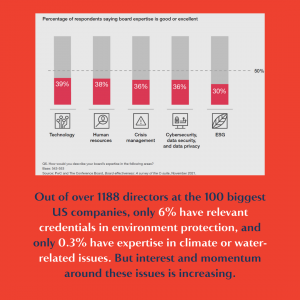 "Our board did undertake a restructuring of their committees, so we now have a governance sustainability and safety committee," says Drysdale. "But a big focus has been on just talking about the issues, building up the board capacity and board education."
This includes directly educating board members about climate issues, risks, and opportunities, giving them a better understanding of the issues so they can be better positioned to undertake their oversight role and question management about whether they're making the right decisions.
For Millot, best practices for leadership means healthy debate. The task force on financial disclosures, for example, is a framework, a guide, he says. "The board has to be properly educated, but the message has to be sent clearly to senior management that these questions are not something that concerns one department sending an engineer to measure what's coming out of your chimney. No, this concerns the entire company across the board, top to bottom."
For the full symposium conversation, watch the Delve video on leadership in the era of energy transition.