What do Cirque du Soleil, American Airlines, and Canadian Tire have in common? They've all shifted their perspective on the value of Information Technology. While Information Technology has helped organizations become more efficient in the past few decades, it's still most often implemented as part of a cost-reduction or business-agility strategy, leaving some major strengths overlooked. IT can facilitate strategic and competitive avenues of innovation and employee creativity across departments, even in a more traditional company.
On the Delve podcast, Desautels Faculty of Management Professor Alain Pinsonneault discusses how the overall mindset towards Information Technology's value is changing, especially in times of broader turbulence like the COVID pandemic. His research shows that IT now affects all aspects of organizations and all types of organizations, including the most human-centred and creativity-minded ones.
Used strategically, Information Technology increases efficiency and creates slack resources—such as a surplus of time, technology, or money than originally needed for a certain task—that can be allocated for creativity and innovation. Yet for an organization to be agile, create those slack resources, and increase value, often a major perspective shift is needed in how IT is managed.
Altering IT ecosystems
When Cirque du Soleil, a creative company by nature, switched up their perspective on Information Technology they brought innovation into all their operations—not only to become as efficient as possible, but to make use of information technology without sacrificing creativity, says Pinsonneault. Cirque brought previously siloed information into shared databases, giving managers more access to shows' outcome data and market feedback. The process created slack resources that let Cirque become an ambidextrous organization capable of both IT exploration and exploitation at the same time, using information and insights to bolster their creative product.
As more companies shift their perspective on Information Technology, their structure and infrastructure shift as well. In Information Systems terminology, that translates to changing the "ecology" or "ecosystem" of organizations. This change happens due to how IT is permeating established boundaries both within individual organizations (such as departments and management) and across entire industries, making it easier for new entrants, competitors, and collaborators to establish themselves.
"Information Technology, in my mind, is the single most important factor affecting the ecosystem of contemporary organizations," says Pinsonneault. He points out that IT is, in fact, changing everything, from products embedded with computer systems to services such as banking. It's also changing something even more fundamental: the way companies create value and the increased clock speed of industries.
Seeing differently
"In several of our studies, where we look at the same technology implemented in one organization for people doing exactly the same work …the impact value is vastly different from one individual to the other. And we've seen that at the organization level, where implementing the same technology can have a huge impact in the organization or no impact," says Pinsonneault.
As an example, before real-time travel reservation systems were created, Frontier Airlines experimented with an inventory and itinerary tracking system, but found it too time-consuming for practical implementation. American Airlines, however, asked themselves how an inventory system could solve their reservations problem and not only recover lost revenue from unsold seats, but charge different prices for them at different times: IBM took them up on the challenge and helped them create the Sabre reservation system.
Searching for business solutions is one path to using IT to innovate, while adding value to a business is another—often the two go hand in hand. Canadian Tire, a traditional retail outlet facing challenges that most retailers are facing in a digital world, has increased its digital presence in the past several years and upgraded some of its flagship stores with new tech.
"They invested a huge amount to build the infrastructure to allow them to do that, they deployed information technology on all sectors, and created a group focused on how to use technology to innovate," Pinsonneault explains. "So the focus is really on innovation; it's not on reducing costs. They know that competing on cost against, for example, Amazon, they're not going to win, so they're focusing on innovation… to gain a competitive edge."
Pinsonneault stresses that an important aspect of shifting perspectives on IT is that managers and decision makers look at IT not as a solution but as tools. "A technological deterministic point of view, saying the technology will determine the outcome associated with using it, is typically not the case [for innovate organizations]," he says. "Managers need to realize that IT is a tool—and the solution comes from the manager. The innovation at Canadian Tire did not come from the technology itself, it came from management thinking about a strategy to remain in business, saying we're going to innovate, and then using the technology to support that."
Human control, AI power
The same logic applies to Artificial Intelligence technology as well, which, like most new IT is now touching on jobs that used to be isolated from IT. "The key is to ask, 'What can we do with that to really make a difference and really add value?' It depends on the organization, the strategy, and the environment," Pinsonneault explains.
"In the case of AI, what we know is the team of AI and human performs better than AI alone or human alone," he adds. "Typically, all management theory will tell us that if someone is responsible or accountable for something, that person needs to be in control of that. What AI is doing is taking autonomous control of some of the paths, but in the end, the individual is responsible for overall decisions."
Whether AI tools or other new technologies, what is fundamental to implementing new Information Technology is how capable an organization is of managing change and shifting perspective, as Pinsonneault has said. The human side of Information Technology shouldn't be occluded by new tech. In fact, in many organizational contexts, IT can shine a spotlight on what human roles might become, showing that higher efficiency and expanded value creation go hand in hand with a human drive for creativity and innovation.
For more insights, listen to the full interview with Professor Alain Pinsonneault on the Delve podcast.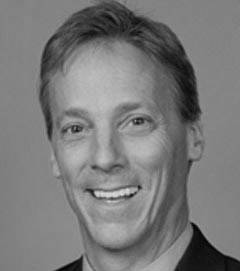 Professor, Information Systems
Distinguished James McGill Professor
IMASCO Chair in Information Systems