The first wave of the COVID-19 pandemic induced panic buying among consumers, sending groceries, toilet paper, and more unexpected items flying off the shelves. The retail industry has learned a lot since then, but only a deep dive into consumer data can ward off a repeat situation, say researchers.
In episode 6 of the second season of The "New Normal" podcast series, Professor Warut Khern-am-nuai from the Desautels Faculty of Management at McGill University joins journalist Dave Kaufman to discuss the data behind pandemic buying and how retailers can use an Artificial Intelligence framework to react in real time to unexpected fluctuations in consumer purchasing.
Khern-am-nuai expands on his earlier research on pandemic panic buying to examine the retail industry throughout the COVID-19 pandemic and look to the future of AI in retail, including how one small policy change by retailers could have avoided empty shelves in the first place.
The unstable nature of the COVID-19 pandemic changed the ability for retail to predict spikes in purchasing, and supply chain issues have continued throughout the pandemic for a variety of reasons, yet product shortages have yet to mirror the degree seen at the beginning of the pandemic. Retail data analysis has helped alleviate shortages, but to maintain supply and revenue in an unpredictable world, retailers need to dig deeper into the capabilities of AI.
"If we were to develop the predictive model to predict panic-buying behaviour, it's not going to work as well as intended," says Khern-am-nuai. "Instead of trying to predict panic-buying behaviour, we detect the panic-buying behaviour pattern in real time. When it occurs at any store in Canada, we can detect that as soon as five minutes after it happens."
Khern-am-nuai explains how his research team's AI models contribute to scientific conversations on how AI can augment business operations and offer a way to assist the retail industry in navigating the post-pandemic world. The AI models are designed to:
Handle scenarios where the training data consists of multiple subsets, and the nature of different subsets is vastly different.
Leverage both internal and external data to identify panic-buying behavior so appropriate rationing and fulfillment policies can be put in place to enhance the distribution of essential supplies.
Identify the change in demand transference.
"If we had this tool before the first wave of panic-buying behaviour, and if stores applied this tool, then they could have improved the access to essential goods by approximately 56 percent," explains Khern-am-nuai.
For more insights, listen to the full interview with Warut Khern-am-nuai on the Delve podcast.
Delve's The "New Normal" podcast series is a collaboration between journalist Dave Kaufman and Delve, the official thought leadership platform of McGill University's Desautels Faculty of Management. The "New Normal" is produced by Delve and Dave Kaufman, with audio engineering by David Rawalia. Each episode looks in-depth at a different aspect of the new normal that we are all navigating due to the COVID-19 pandemic. Original music by Saku Mantere.
Dave Kaufman is a Montreal-based journalist and commentator. He has worked for CJAD 800 and TSN 690 Radio in Montreal, CTV News Channel, CTV Montreal, and TalkRadio and SkyNews in the United Kingdom. He has written for the National Post, Montreal Gazette, and Toronto Sun and other publications. Follow him on Twitter at @TheKaufmanShow.
You can subscribe to the Delve podcast on all major podcast platforms, including Apple podcasts and Spotify, and follow Delve on:
LinkedIn, Facebook, Twitter, Instagram, and YouTube.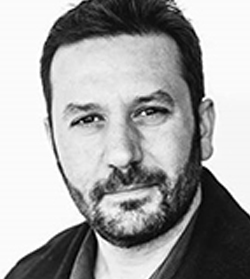 Dave Kaufman
Montreal-based journalist and commentator