Small and medium-sized enterprises account for as much environmental impact as the entire Canadian transportation industry—yet solving their climate impact requires a unique peer-to-peer approach.
In episode 2 of the second season of The "New Normal" Delve podcast series, Professor Dror Etzion from McGill University's Desautels Faculty of Management joins journalist Dave Kaufman to discuss the role of small and medium-sized enterprises (SMEs) in the global fight for climate sustainability.
"Sustainability is often a source of innovation and good business ideas," says Etzion. "The question is not whether people are aware and believe that climate sustainability is an issue, but whether they're comfortable in engaging with it wearing the hat of a business owner."
In his conversation with Kaufman, Etzion illustrates the power of a "peer-to-peer inspiration model of change" for this diverse and competitive community of entrepreneurs. He also outlines the technologies that are helping SMEs thrive and how the McGill-founded PIVOT action research project and online social platform is encouraging SMEs to take climate action today and for the future.
In partnership with the National Film Board of Canada, PIVOT brings SMEs together to focus on collective and social climate solutions, while also addressing the real-world limitations of government intervention and economic policy on small and medium sized enterprises.
"Maybe we can inspire SMEs to act not by wielding the carrots and sticks of government policy, but rather by creating a social community, a place where they interact with each other, ask each other questions, motivate each other, discover inspiration and stories from each other, as opposed to having the government impose upon them what to do," explains Etzion. "There is substantial research that shows that the people that SMEs and entrepreneurs listen to the most are their peers."
At the same time, SMEs play a vital role in the wider economic ecosystem. "We're hearing a lot about ESG metrics in business: What are the risk factors or how are you conducting yourselves in terms of environmental, social and governance issues?" says Etzion. "I think the large companies are asking the small and medium-sized enterprises in their supply chains to be cognizant and moving forward on these types of metrics. And they're doing this mainly to reduce their own risk because if their suppliers are resilient, then they themselves will be resilient."
In the grand scheme of things, SMEs tend to recognize that making these changes is important and, in fact, a good thing to do. "On the other hand, sometimes they're a bit annoyed because they feel that these demands are just being rolled over to them, putting a bigger onus on them without corresponding reward," Etzion adds. "I think there is definitely a way for them to cooperate and to act collectively. But sometimes if you talk to an SME, they'll feel that maybe they're bearing a bit too much of the burden themselves."
Ultimately, solving the climate crisis from an SME perspective requires deliberation, thought, and cooperation, says Etzion: "It requires an understanding of who you are, what you're able to do, which sector you're in, which clients you engage with, what technologies you have available. That's really the challenge. The really important things, the things that will make a dent, that will make an impact, that will be meaningful, aren't simple cookie cutter solutions."
For more insights, listen to the full interview with Dror Etzion.
Delve's The "New Normal" podcast series is produced by Delve and Dave Kaufman, with audio engineering by David Rawalia. Each episode looks in-depth at a different aspect of the new normal that we are all navigating due to the COVID-19 pandemic. Original music by Saku Mantere.
Dave Kaufman is a Montreal-based journalist and commentator. He has worked for CJAD 800 and TSN 690 Radio in Montreal, CTV News Channel, CTV Montreal, and TalkRadio and SkyNews in the United Kingdom. He has written for the National Post, Montreal Gazette, and Toronto Sun and other publications. Follow him on Twitter at @TheKaufmanShow.
You can subscribe to the Delve podcast on all major podcast platforms, including Apple podcasts and Spotify, and follow Delve on LinkedIn, Facebook, Twitter, Instagram, and YouTube.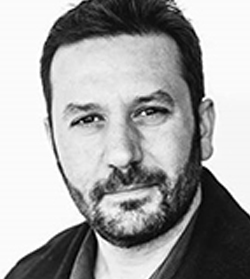 Dave Kaufman
Montreal-based journalist and commentator